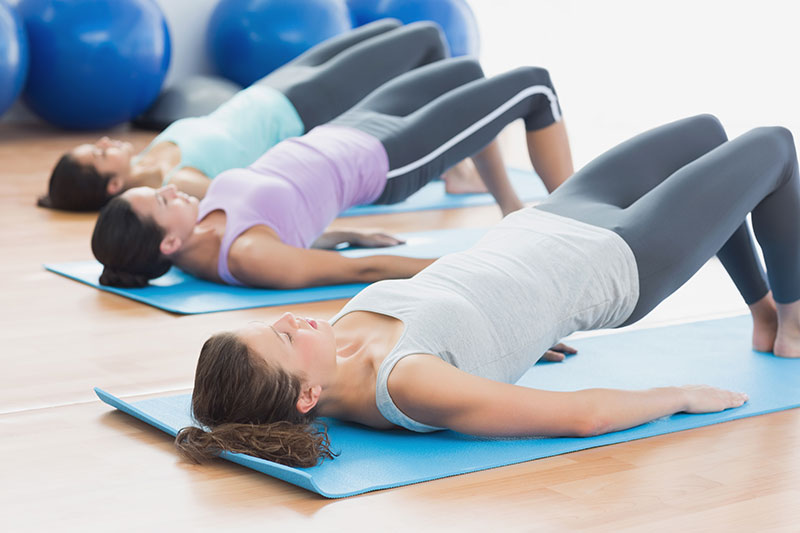 Pilates aims to strengthen the body in an even way, with particular emphasis on core strength to improve general fitness and wellbeing.
When performed correctly it can be a tough workout, and if performed regularly it can improve flexibility, strength and co-ordination. Exercises can be graded to your ability, and so can be progressed as you improve.
Pilates can be used in the rehabilitation of certain injuries, as a means of cross-training, or conditioning, or in the prevention of injuries or simply for general fitness. Our emphasis is on enjoyment. Whilst the exercise needs to be challenging, it also needs to be fun!
Benefits of pilates include;
⇒  Improved posture  ⇒  Better Balance  ⇒  Reduced injury risk  ⇒  Increased Strength  ⇒  Enhanced Core Strength  ⇒ Improved Flexibility
LA Physiotherapy's Pilates classes are held at Newton Mearns Parish Church and online via ZOOM.  They are bookable in six week blocks and run on Monday mornings, Tuesday evenings and Wednesday evenings.
| | | | |
| --- | --- | --- | --- |
| Monday | 9.30am – 10.25am & 10.35am – 11.30am | Newton Mearns Parish Church | Linda |
| Monday | 10.45am – 11.45am | ONLINE – zoom | Ailsa |
| Tuesday | 7.00pm – 8.00pm | ONLINE – zoom | Lorne |
| Wednesday | 6.00pm – 7.00pm | Newton Mearns Parish Church | Ailsa |
Waiting List
Due to demand we have a waiting list for our Pilates Classes. Please use the form opposite to add your details to our waiting list and we will contact you as soon as a space becomes available.
Use this form to get in touch with us. The information you provide here will only be used to contact you as per your enquiry. We will not use it for any other purpose or pass on any of the information to a third party.